Hi, gang! September is here and I wanted to give you a sneak peek of what's ahead...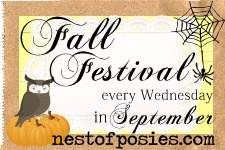 I'll be participating in this fun Fall roundup of inspiring ideas each Wednesday over at
Kellie's blog
. I figured I needed a little push to get me thinking "fall" and this was just the way to do it! She casts a wide net, so you'll find decorating ideas, new recipies, entertaining tips, crafts, and more.
Next week I'll also be sharing the super Back-to-School sale going on at Willow House this month... discounts on all the stylish products that will help keep your crew organized, so stay tuned!
And I have a couple of painting projects up my sleeve, some tailgating tips and tricks, and -- of course -- a new fall mantle coming your way, too. I can already feel fall in the air!
In the meantime, the hubs and I are hosting some friends at the beach for a last gasp of summer. There's some rain in the forecast, but let's hope for this...
Have a great weekend!